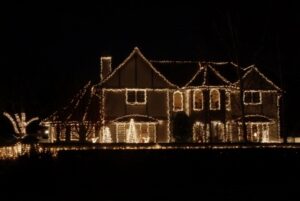 Christmas is coming and it's starting to show in cities across America. Homes in every town and city are starting to sparkle with thousands of tiny and colorful lights. Hanging up lights in December is a holiday tradition and a source of pride for millions of homeowners. But if you aren't careful it can also be a source of injuries or damages to your roof.
Christmas lights look deceptively simple if you've never tried to hang them up before, but if you've actually tried it yourself you know how things can go wrong at a moment's notice. If you're attaching lights to your roof it's best to keep safety in mind and plan ahead.
Make Sure You're Healthy Enough To Hang Lights
Working on a ladder or a roof is always serious business. You need to be in good health, with full control of your body. If you have balance issues, injuries that limit your mobility, or any medical condition that might put you at risk then it's best to stick to the ground.
If you have any questions at all regarding your ability to handle the job you should see your doctor.
Check The Lights Before Anything Else
The last thing you want to do is dive straight into work and spend hours in the cold hanging up lights, only to find out that they won't light up. SImply plugging the lights in to see if they work is a good place to start, but you should go farther. Try examining the full length of your lights to check for any damage, like exposed or frayed wires. These can be fire hazards in addition to eye sores.
Secure Yourself With A Harness
If you're going up on your roof safety becomes even more crucial. Even able bodied experts slip on roofs, especially in the winter months where ice and snow can pose threats. Experts deal with these by suiting up for the job. By putting a safety harness on and securing it firmly to your roof you can turn a potentially deadly fall into a simple shock or relatively minor injuries. This article isn't long enough to go over harness use, make sure you research the topic in greater depth before ever betting your life on your knowledge of the subject. Also, never forget that safety precautions can fail so don't get overconfident and reckless.
Don't Damage Your Roof
How are you planning on attaching your lights? In the past nails and staples were common choices, but both can damage the lights and the roof they're attached to. Plus, they can also be dangerous when used by the inexperienced. It's better to use temporary solutions that clip or hook to your gutters or the edge of your roof.
You might be afraid that hooks or clips won't have a strong enough hold, but if you use them properly they can be surprisingly strong. It's also worth comparing the hassle involved in reattaching lights to a clip versus having to do serious roof work after it gets damaged by poorly thought-out lighting installation.
Get By With A Little Help From Your Friends
Whether you hire someone to hang lights for you or decide to go the DIY route the job should never be done single handedly. That might work for jobs where you don't have to leave the ground, but as soon as you're up on a ladder or a roof you should have someone on the ground. They should be able to steady you, give you a hand, and get help if things go bad.
Don't put pride over safety. If you can't confidently say that you can safely handle the job of hanging up lights then hire someone to do it for you. It's a lot cheaper than the long term costs involved in dealing with broken bones.
Give us a call 256-325-2277, or email us for a free roof inspection