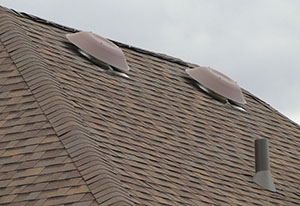 If you are trying to figure out what shingles to use for a roof replacement, you may want to consider getting architectural shingles. They are a great option, and can help your Huntsville home look amazing. Having architectural shingles on your home allows your home to look unique in your neighborhood, plus it also provides extra protection for your roof. Here are some of the most important benefits you can get out of architectural shingles when you have them installed by a professional Huntsville roofer.
Installing Architectural Shingles Is Easier Than Traditional Asphalt Shingles
In many instances, having architectural shingles installed on your Huntsville home is easier than if you were to go with traditional asphalt shingles. Most traditional asphalt shingles are three-tab shingles. This makes them difficult to install around the nuances of your roof, such as chimney, vents, angles, and bends. However, when you go with architectural shingles, you have the ability to lay them down in a way that helps cover those nuances more completely. Since the texture is already built-in, the shingles simply get cut around the item, and the roofing installation continues.
Architectural Shingles Look Like Much More Expensive Options
Most architectural shingles are set up to mimic the look of cedar shakes or a slate roof. However, the shingles do not cost anything near as much as those high-end materials. They give you the look of having used luxury materials at a price that you can afford. You can pick from a wide variety of architectural shingles, so you can pick and choose the look you want for your home. If you cannot find the perfect look at one place, you can look around until you find the shingles that offer you the look you were hoping for.
Architectural Shingles Cost Only Slightly More Than Traditional Shingles
One of the biggest benefits of opting for architectural shingles is their cost. When you go to buy architectural shingles from a store or from a Huntsville roofing company, you can expect about a 25% increase in price over traditional shingles, give or take a little bit. However, that cost is offset by the extended warranty you often get with architectural shingles. Instead of the normal warranty that comes with traditional shingles, of 20-30 years, you can get architectural shingles with a warranty more than twice that. The top architectural shingles on the market have warranties around the 75-year mark. That makes the slight increase in cost well worth it, when you get the extra protection for your home.
You Also Get Increased Durability with Architectural Shingles
When you have architectural shingles put on your home, you also get an extra layer of durability. Traditional shingles are thin in comparison. They only have about three separate layers. When you opt for architectural shingles, on the other hand, you get multiple layers. They are created by making multiple layers, which is what gives your shingles their extra texture. So instead of getting a thin shingle that can withstand winds of 40-60 miles per hour, you get a thick shingle that can withstand winds of 100-120 miles per hour. Plus, you also get increased fire resistance from the architectural shingles. This makes your Huntsville home even safer.
If you want help figuring out which architectural shingles would be best on your home, it is best that you ask an experienced Huntsville roofing company their advice. These professionals know what will work best for your home. Give them a call and find out what shingles your home would benefit from most.
Give us a call 256-325-2277, or email us for a free roof inspection and Free Estimate
Check what some customers are saying
We offer more than roofing, check out our service offerings
We Specialize in maximizing insurance claims and quick turnarounds.