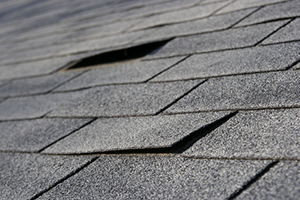 Roof damage can occur due to numerous reasons. In some cases, roof damage can be associated with the particular type of roof that is on your home.
Whether you are looking to protect your new roof, extend the life of your current roof or simply want to know the common causes for roof damage, here are three of the main issues associated with roof damage.
Poor Maintenance – If you can catch a problem early on, you can immediate make repairs and eliminate larger problems in the future. Because of this, it is crucial to inspect your roof, or have your roof inspected by a professional, on a regular basis. This is especially true if you have a roof with little to no slope.
Wind Damage

 – Wind is capable of loosening nails in the roofing materials, regardless of its intensity, over a period of time. Once these nails have been loosened, even the slightest wind can cause serious damage to the roof. Strong winds, which are accompanied with flying debris, can severely damage your roof, possibly removing some – in some cases, all – of your roofing material. By inspecting the roof regularly to ensure all materials are securely attached to the roof deck, you can generally avoid major damage.

Other Weather Damage

 – Any type of weather can ultimately harm your roof over time. Areas with large snow accumulation needs a roof that can hold up to the weight of the snow while homeowners that live in areas that are prone to severe thunderstorms and hailstorms need to inspect their roof after every major storm to look for any minor or major roof damage. Rain, air pollutants and even the sun can cause roof damage, but inspection, early detection and proper repair can prevent serious concern.
All three of these are major and common causes of roof damage. However, they can all be minimized by frequent and careful roof inspection so that early and minor issues can be detected before they worsen. By locating minor problems and having them repaired immediately, you can likely avoid serious damage to your home's roof and avoid the need for early and expensive roof replacement.