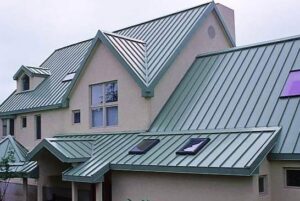 If you have had any thoughts about how bland your Huntsville roofing maybe looking, or it doesn't stand out among your Huntsville neighbors? Then you may want to consider things that you can do to customize how your roof looks. This becomes especially poignant if you are about to have your roof replaced. There are many customization options before you, so it is important that you speak with your Huntsville roofers to find out which would work best for you.
Change the Shape and Slope of Your Roof
If you are about to have your entire roof torn off, you may want to find out if having the shape of your roof altered would work. Some homes, especially historic homes, need a specific roofline to be able to match the home or the time period the home was built in. However, others can be changed around to help give your home added character. Ask your Huntsville roofing company if you believe that they could do something to improve the look of your home. They may suggest changing the slope either higher or lower, or even changing one part of the roof to include solar power.
New Materials Are Available
Your roof may also be better off if you choose different roofing materials. Instead of going with the constant asphalt shingles or even the occasional roofing tile, consider what other options are out there. If your home is relatively new, and your roofers tell you that your attic is nice and strong, you may want to go with cement tiles. They last up to 50 years, and while they may cost a little more up front, they pay for themselves with their durability and lack of necessary maintenance.
Colors Vary More Now Than in Years Past
A few years ago, you had only a few colors to pick from for most of your roofing materials. Today, your choices are far more extensive. You can go with whites, grays, blacks, and tans, if you really want to. However, if you want to get a truly custom look, you can opt for blues, reds, greens, and even purples in some options. You can also buy materials that come with color variations, so you can have a roof with one color, such as blue, but multiple shades of that color. That can give your roof a unique look, while still giving you the materials you want on your roof.
Roofing Accessories Can Also Give You a Unique Look
When your roof is being put back together, you will need things like soffits, flashings, and gutters. These accessories can blend in with your home, or your roof, or stand out from both. Consider these options when you want something unique up on your roof. Instead of using aluminum flashing, why not go with rubber? If you want an accent color for your gutters, then go with a color that melds well with the color of both your roof and your siding.
Your roof is one part of your home that is easily seen from all angles. It takes a beating all year long, and it needs to be durable to protect your home and your family. If you want a new look for your roof, but you aren't sure what options you have, talk with your local Huntsville roofing company. They can look at your roof, and give you the options of what will work with your home most effectively. Find out more by contacting your local Huntsville roofers today. They can give you options you may even realize exist.
Give us a call 256-325-2277, or email us for a free roof inspection and Free Estimate
Check what some customers are saying
We offer more than roofing, check out our service offerings
We Specialize in maximizing insurance claims and quick turnarounds.