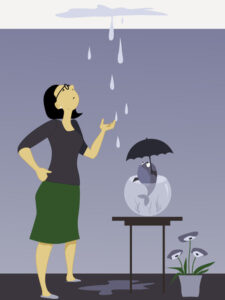 Most people worry about roof leaks because they do not want water entering their homes. This is a legitimate fear, but there is a lot more to water getting into your home than a few stains on the walls or ceilings. If your roof begins to leak, it can lead to much bigger issues, especially if it's not fixed as soon as it begins. Here are some of the damages your home could face if your roof is leaking and you don't take care of it right away.
Your Insulation Could Fall Apart
When water comes in through your roof, it typically lands on the insulation you have in the attic space of your house. This water causes the insulation to fall apart and do your house essentially no good. This lets heat out during the winter, and cold out during the summer. It also could create a situation where mold or mildew has a space to grow unimpeded in your attic, which could hurt your home, and those around you.
Mold is a Constant Worry When Your Roof Leaks
Once water gets inside, it has to dry out before it causes some sort of problems. If it cannot dry out right away, then you are going to wind up with either mold or mildew growing in the damp areas, or sometimes both. If you get mold growth in your home, it can affect a lot of things. Not only can the mold seep into the different parts of your home, from the drywall to the insulation to the carpeting, but it can also make you incredibly sick just by being there.
Mold is also able to be airborne. This means that if you have mold anywhere there is a breeze, it can travel. It can float out of the vents of your home and get those around you sick, or it can be kicked up each time the heat or AC kicks on in your house, causing people to inhale it when they walk around your home.
The Wood in Your Home Can Rot When Wet
If your roof is leaking down on to the frames of your attic, it can also rot the wood. This can make the wood quite weak, and can cause the attic to wobble. If a strong storm, wind, or weight comes across that puts any pressure on the roof of your house, it can bring the entire roof down on your home, potentially hurting anyone that is inside when that happens.
How to Avoid These Problems
If you want to avoid the problems associated with roof leaks, you need to make sure to maintain your home's roof regularly. You need to walk up, look at your roof, and fix anything that is out of place. Look around the attic every month or two for signs that you may have a leak. The more inspection and maintenance you can do to your roof, the less likely you are to have any type of a leak that goes on long enough to cause a significant problem.
For those who do not feel comfortable up on the roof, you should call in your local Huntsville roofing company to look for you. They know what to look for, can do the same task that you would do in much less time, and can fix the issues they find much more quickly than you are likely able to do. For more information, give your local Huntsville roofing company a call today, and find out what they suggest for preventing roof leaks.
Give us a call 256-325-2277, or email us for a free roof inspection and Free Estimate
Check what some customers are saying
We offer more than roofing, check out our service offerings
We Specialize in maximizing insurance claims and quick turnarounds.