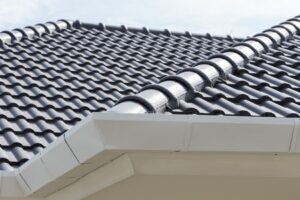 In Huntsville Roofers believe few choices define the character of your roof like the kind of material you use to create it. Different materials vary in practical and aesthetic matters. You want to find roofing that fits the look, environment, and budget of your home.
Two of the most popular materials used in modern roofing is asphalt and metal. Each has advantages and drawbacks that we will consider so you can make the best possible decision.
Asphalt Shingles
The most common type of shingle used in America today is asphalt. This is because the material is so affordable. If you're looking for the best material at the cheapest price, then asphalt is a good choice. It is also one of the easiest materials to work with so that even non-professionals can deal with damage to an asphalt roof. And don't think that asphalt shingles look cheap because of their price point, modern options come in a huge range of looks. This means you can find asphalt shingles that fit just about any style.
While asphalt has a lot of things going for it, it is not without faults. Consider its durability. Asphalt shingles last longer than ever thanks to modern manufacturing techniques but they still tend to have a shorter lifespan than metal shingles. These shingles can last for up to a half a century in the best circumstances but their durability depends on the environment. In areas where the temperature swings quickly metal can be a better option.
Metal
When people think of metal roofing they often imagine something that looks very industrial. It doesn't have to be like this. If you look at metal roofing options on the market today you'll find that it can be used to create all sorts of looks. When seen from the road metal roofing can even look like wood or asphalt shingles. But metal roofing lasts longer than asphalt, even cheaper varieties can last as long as high-quality asphalt. And since asphalt shingles are built for steep roofs, if your home has a roof that is flat or only slightly slanted then metal is the way to go.
If asphalts biggest drawback is its strength then metal's is its cost. This doesn't mean that metal roofing has to be expensive, it just means that it's more expensive than asphalt. Metal may be known for its durability, but it has to be durable. Damage to metal roofing is harder to repair than similar issues with asphalt shingles.
Making The Right Choice
Between metal and asphalt, neither option is inherently better or worse. They are simply different. Their unique qualities qualify them to be used in different situations.
It's also worth remembering that choosing the right material is just one part of installing a roof that will stand the test of time. The quality of a material on the company making them and a roof is only as good as the effort that went into building it. That's what we provide at Quality Roofing LLC, we'll make sure your roof is constructed with high-quality materials and expert attention.
Both asphalt and metal can be used to create attractive and durable roofs that should last for decades. Still, you deserve the best roof possible. Decide what you really want from your roof and consider which material is best for making your dreams a reality.
Give us a call 256-325-2277, or email us for a free roof inspection and Free Estimate
Check what some customers are saying
We offer more than roofing, check out our service offerings
We Specialize in maximizing insurance claims and quick turnarounds.