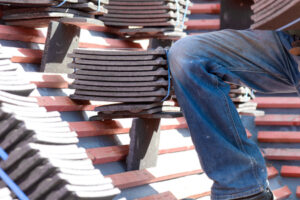 Does your home need to have a new roof put on in the next few months? If so, you may be looking around at the best roofing materials to use. There are all sorts of traditional roofing materials to choose from, such as tile and asphalt shingles. However, there are other materials that you may not have considered just yet. Take a look at some of the benefits of a concrete roof before you make your final decision, as it may be the best material for your home.
Concrete Roofs Last a Very Long Time
Getting a concrete roof installed on your home can give you many years of peace of mind. It takes a Huntsville roofing company that is experienced and trained in how to install concrete roofs to do it right, but when it is, you can expect upwards of 50 years of protection. That means you may pay a little bit more for your roof now, but then you should not have to put a dime into it for many years, saving you money in the long run.
Concrete Roofs Are Safer During Storms
Asphalt shingles are known to fly around a bit when you get strong winds or heavy storms. You will not have this type of issue when you have a concrete roof installed on your home. The concrete tiles are heavy enough to hold their own on your roof in most types of weather. Concrete tiles are also a lot stronger, so the standard wear and tear that comes along with most traditional roofing materials is not very likely to apply to a concrete roof.
Noise is Less of a Factor with a Concrete Roof
The density of concrete roofing tiles helps to keep out noise. If you happen to live near an area with a lot of traffic, and the honking, sirens, and screeching tires tends to keep you up at night, a concrete roof can significantly help. A well-insulated home that also has a concrete roof will be nearly noise-proof from outside noises, allowing you to have a quiet oasis inside your home.
The Weight of Concrete is Not What It Used to Be
In years past, concrete roofs were not able to be put on any building. They were too heavy for most homes and would not be safe to put over a residence. Thankfully, the weight of concrete roofing tiles has significantly gone down over the last few years to where that is a viable option at this time. While companies that make concrete tiles have been able to take out a significant portion of the weight, they have still been able to maintain the same durability that concrete has been known for. This gives you the best of both worlds!
A concrete roof is something that more homeowners should consider. It may be a larger up front expense, but the money that it is able to save you down the line is considerable. Call on your local Huntsville roofers to help you make the choice between a concrete roof and any other roofing material you may be considering. Just remember the benefits you can get by opting to go with concrete. Your roof will be strong for many years to come, replacing your roofing materials will seldom, if ever, be necessary, your home will stay strong during crazy weather, and the weight of concrete is not a factor for the vast majority of homes. As long as you have the money to put towards this type of roof up front, you are going to get many benefits from making this choice.
Give us a call 256-325-2277, or email us for a free roof inspection and Free Estimate
Check what some customers are saying
We offer more than roofing, check out our service offerings
We Specialize in maximizing insurance claims and quick turnarounds.