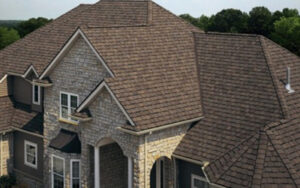 If you want a roofing material that will keep your home safe and sound without breaking the bank then choosing shingles is a good idea. There's a reason they are probably the most popular roofing material in America. But anyone who works on roofs will tell you that not all shingles are the same, they vary widely in terms of appearance, quality, and cost. It's worth investing a little effort into finding shingles that can balance all of these elements and leave you satisfied a decade or more.
Decide On An Overall Look
It's obvious that you want to get shingles that are made well and resistant to the elements but it's also important to get shingles that look good and match your home. Shingles that fit the look of your house will nicely accentuate the way your home looks while the wrong shingles can stick out like a sore thumb and even decrease the perceived value of your home. That's why it's worth at least finding the right color.
Consider driving around and looking for homes that have a color scheme similar to your own. The difficulty with shopping for shingles is the fact that you won't necessarily be able to picture the way they will look on your roof when you're in the store. It's worth at least taking a picture of your home or a sample of your desired paint scheme with you so you can visualize how everything will work when all is said and done.
Set A Budget
Everyone wants the best for their home but at a certain point decisions are constrained by what's realistic. If you don't have much money leftover to spend on your roof then your options are going to be rather limited.
It's very helpful to think about your budget as early as possible. If you know how much you have to spend on shingles and how much roof space your shingles will have to cover then you will be able to eliminate many unrealistic options immediately. Just remember to think beyond the shingles themselves when setting your budget, you don't want to spend all your money on shingles only to realize that you still need to pay to actually have them installed. Planning ahead and thinking things through should prevent these sort of unfortunate surprises.
Look At Different Materials
When Americans hear the word "shingles" they often get an image of the common asphalt shingle in their mind but asphalt is just one of many options available. Wood, metal, and ceramic shingles are all available choices and each has different advantages and downsides.
Thinking about style and budget first is a good idea because looking at these will really narrow down the materials you should look at. If you're looking for a classic Spanish look then going with clay tiles makes visual sense, but they can be expensive and damage easily. Keep in mind that people don't look at shingles up close, you can get metal shingles that look like they're made of clay or even wood so you get the look of a more traditional material while enjoying the benefits of more modern shingle options.
Making An Informed Decision
It's easy to assume that choosing the right kind of shingle would be a simple matter, but the more research you do the more you'll learn about the subtle differences between the various styles and brands on the market. The decision is even harder for people who don't work with roofing often, it's hard to know a quality shingle when you see one if you hardly ever look at shingles.
If you aren't sure about the shingles that are right for you then you can always seek expert advice from the team of experts we have on staff at Quality Roofing LLC. We have the experience to know which shingles work and which don't and the connections to get you the perfect shingles at the right price. From finding the precise shingles you require to installing them we're here to help you.
Your house is important, it deserves the best shingles possible. If you take the time to find the shingles that fit your style and budget it will pay off in years to come. Being able to look up at your roof proud of the way it looks and confident about the safety of your home is priceless.
Give us a call 256-325-2277, or email us for a free roof inspection