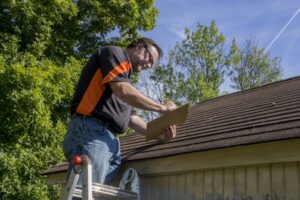 When you have a leak in your roof, having water in your home is inevitable. The next rain, you could wind up with water in your attic, which can then cause issues with the rest of your home. There are many problems that commonly happen when a roof leak goes untreated. If you call in a quality Huntsville roofing company, many of these issues, if not all of them, can be completely avoided.
Ceiling and Attic Damage
When water comes through your roof and into your home, it is going to do some damage. First, it will hit the interior of your home by means of your attic. Then, the water is going to trickle down and cause issues with the ceiling of your home. This may be no big deal if you think the only issue is a stained ceiling. However, there is far more going on than a simple stain. Water hitting your ceilings is going to leave you with the potential of mold growth above the ceiling and in your attic. This could get you very sick, and leave your family facing health issues.
Damaged Attics and Ceilings Can Become a Fire Hazard
Another common roofing issue when you have an untreated roof leak is the wet area causing electrical wiring to become a fire hazard. Wet wires can short out, which can spark a fire. This could take down your entire house. Since the area is wet, the fire would start out as a smolder that would go around and not flame up at first. Then, once the smolder went to a dry area of the attic, a fire would start. By then, the flames would quickly spread due to the heat of the fire and be incredibly difficult to get under control. This can be avoided by having an experienced Huntsville roofing company come out and fix up the leaks in your roof.
Problems with the Structure of Your Home
One of the more commonly overlooked issues that can come with an untreated roof leak is problems with the structure of your home. The water that sits on the roofing materials, and then the trusses beneath the roof, become waterlogged and brittle. The more water these wood materials are exposed to, the weaker they become. If a roof leak is left untreated long enough, it can cause the trusses to collapse, and cause your entire roof to come down on top of you and your family while in your home.
Lessor structural issues can also occur. This can include things like paint that peels off the walls, and spongy drywall. This means that after time, the walls have the potential to collapse as well, leaving your home exposed to the effects of the water damage. As the water builds up in these materials, there is also an increase in mold and mildew potential, which could make all members of your family sick.
If you want to get some help with a roof leak, contact your local Huntsville roofing company. They can come out and look at what is going on with your roof. Once they have an idea of what the problem is, they can talk to you about what repairs are required. You can then figure out which option is going to work best for your situation, and get the roof repaired. From there, make sure you have someone go through and check to make sure the rest of your roof, attic space
Give us a call 256-325-2277, or email us for a free roof inspection and Free Estimate
Check what some customers are saying
We offer more than roofing, check out our service offerings
We Specialize in maximizing insurance claims and quick turnarounds.