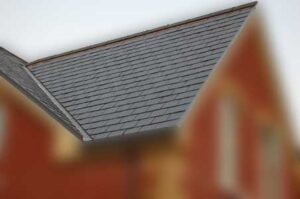 When building or remodeling a home many people don't spend enough time thinking about roofing. You only have so much money to spend and you want to invest it wisely, but while some people think that they can get away with spending as little money as possible on the roofing this is a big mistake. An investment in quality roofing materials and installation is investment in the future of your home, from how It will look to how safe it will be to live in.
If you're thinking about adding roofing to a new or existing home then you need to give the task at hand proper consideration. We talk about buying homes using terms like "putting a roof over our heads," why not take the time to make sure that roof is the best it can be?
It Can Save You Money
Too many people cut corners when it comes to roofing because they think it will save them money, but this type of thinking ignores the long-term costs of these sort decisions. If you are going to be living in a house for years to come you might end up paying big because you wanted to pinch pennies.
When you install cheap roofing as quickly as possible you are inviting unnecessarily quick deterioration. Shingles falling off, metal corroding and holes letting water into your home. All of these problems cost money to fix and so any money might've saved while installing the roof can quickly be outweighed by the costs involved in patching up your roofing multiple times a year. And it's not just about the monetary cost, there is also the hassle involved in having to regularly arrange for professionals to come out or climbing up on your roof and risk your own health to make up for shoddy workmanship.
It Can Make Your Home More Attractive
You deserve a home that you can feel proud of every time you see it from the road. You might not think that having a quality roof will make that much of a difference when you are planning a your home but once you see it all come together you will understand that a roof is what can be described as the perfect finishing touch.
While it may not be the first thing you look at your roof will still have a big impact on the way your home looks. A beautiful-looking home topped off with a shabby looking roof will just look wrong, It's the sort of imperfection that can distract people from the rest of work you've done on the other parts of your home. But if you make sure that your roof complements the rest of your home it can take things to the next level, showing everyone who comes by that you have a proper attention for detail.
A good-looking roof is more than just a source of personal pride, when it comes time to evaluate the value of your home whether you're trying to sell or get a loan The condition of your roof might make a difference between whether you get what your home is worth or whether you have to settle for less. If people look at your roof and think it will need to be replaced they will hold it against you.
It Can Give You Peace Of Mind
Never forget that your roof is the first line of protection between the outside world and your home. You can think of it like the skin on your body, you might not think about it most of the time but if it is ever damaged you will run the risk of a variety of problems.
The most obvious issue is water leaking in. If you've never dealt with a leaky roof before you might not think this is much of a problem, why be afraid of a little water? But one drop at a time can add up, especially if it is pooling up in areas that are out of reach. If you allow standing water in your home you could end up dealing with mold that can damage the structure of your home, destroy furniture and even pose a health risk.
This is such a serious problem because it is so easy to miss. Many people hardly ever look up at their roof, and from the ground it is easy to miss holes and cracks that may let water into your home. While regularly checking for any damage is helpful, especially after extreme weather events, if you really want to feel a safe as possible in your home you should get your roof installed properly.
Do Things Right The First Time
Even knowing all of this some people may think they can still get away with getting cheap roofing now because they hope that in the future they be able to upgrade it. This is a tempting train of thought but it is also very dangerous. Procrastination comes naturally to people, especially when it involves costly projects and there are other bills that need to be paid. In the end getting cheap roofing now will cost you more in the long run than it you committed to doing it right the first time.
At Quality Roofing LLC We have over a decade's experience of getting the job done right so our customers can relax and enjoy their home. When your roofing is done correctly you can come home every day to a beautiful-looking home and sleep soundly at night knowing that you are protected from rain, mold and unnecessary expenses.
The only thing more important than your home is the people who live inside of it. Protect both at the same time by investing in quality roofing materials and installation so you can confidently say that the roof over your head is the kind of roof you deserve.
Give us a call 256-325-2277, or email us for a free roof inspection