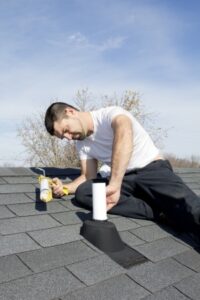 Taking care of your roof is something that you should be doing all year-round. You should be keeping ice from building up during the winter, and making sure that you are clearing things like leaves and sticks off of it all year long. During this summer season, there are a few other things that you should be tending to in order to keep your roof working properly all year through. Here are some tips to make this job a bit easier.
1 – Remember to Clear the Roof Regularly
You want to go through and clear off your roof regularly. This means taking all of the leaves and sticks off of your roof, but that is not where the job ends. You should also do the same with your gutters around the house. On top of removing leaves and sticks, you should also make sure to remove any bags or plastic that became lodged on top of your roof, and remove nests from small animals like squirrels and birds.
2 – Inspect Your Entire Roof On a Sunny Day
While you do not want to be up on your roof when it is nearly 100 degrees outside, it is important to take a nice and sunny day to go up and inspect your home's roof. You do not want to be up there when it is cloudy, as you may miss some of the telltale signs of damage on your roof, such as shading or dips in the roof itself. Take an afternoon one day, when it is sunny but not too hot, and walk around your entire roof. If any area needs to be fixed up, do it quick while you are up there. If you do not feel comfortable walking around your roof, then ask your local Huntsville roofing company to come out and let you know what your roof looks like.
3 – Make Any Repairs Your Roof Needs Now
Springtime brings a lot of rain, and fall can bring a lot of wind and changing temperatures. Winter has ice and snow, so summertime ends up being the best option when it comes to replacing anything your roof needs. It could be something as simple as replacing a shingle or two or replacing a piece of flashing, or it could be that the entire roof needs to be redone. Either way, doing it when it is warm and dry outside is going to give you the best results, and leave you facing the least amount of potential weather-related danger.
4 – Plug Any Leaks
This is also the perfect time to repair any leaks that you notice on your roof. You want to make sure that you look for any little holes or areas where your shingles have lifted up and fix them while you are up there. Little holes may not be a big enough problem now where you have noticed water getting into your home, but leaving the repairs for later allows more water to get in there and more damage to be done. Taking the time now means that you will not be up on the roof in bad weather next season trying to fix the hole that is now much larger.
Any time that something needs to be done on your roof, you have the option to do it yourself or call in the professionals. If you are not completely sure that you are capable and safe up on your roof, you are better off calling in professional Huntsville roofers. They can come out and safely make these repairs or inspections for you, and leave you with lasting peace of mind.
Give us a call 256-325-2277, or email us for a free roof inspection and Free Estimate
Check what some customers are saying
We offer more than roofing, check out our service offerings
We Specialize in maximizing insurance claims and quick turnarounds.