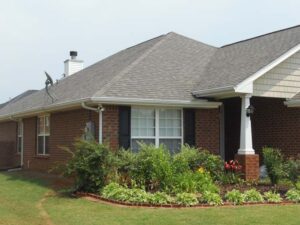 Spring is a great time to see what is going on with your roof. You may have had a rough time during the winter where there were a lot of very cold nights. These impact your roof, and can even cause damage to your roof. When the weather warms up in the spring, you should head out and look at your roof. This is the time to catch the problems early so that they can be repaired before they cause further damage.
Go Out and Look At All Parts of Your Roof
One of the first things that you need to do each spring is to go up on your roof on a dry day, and look at the condition of it. You need to look at your roof edge to edge, and make notes about anywhere that shows signs of wear and tear. Take care not to walk on the edge where you could fall, and make sure not to step on any areas that are dark or depressed. They could be weak spots and you could fall through.
You want to look for discolored areas on your roof, curled or lifted shingles, or areas where leaves and branches are getting stuck. Plus, you want to keep an eye out for any area that has pooled water, as that is a sign that you could have water damage on that area of your roof. Make a note of where it is and come back up in a day or two when the pooled area should be dry. Then, see what condition your roof is in where the pool once was.
Sweep and Move Any Piled Up Debris
Bring a small hand broom and some grub gloves up on the roof with you. If you find areas where your roof has debris, grab hold of it and throw it to the ground to pick up when you are done on the roof. If the debris is dry, then sweep it off the roof so you can see the condition of the roofing materials below. Don't leave debris up on your roof, as this could lead to damage on your roof that lets water in the next time it rains.
Don't Forget the Different Roof Elements
You want to look around at everything up on your roof, not just your traditional roofing materials. Your chimney needs to be inspected, as does any flashing you have up on your roof. Make sure it all looks good, and make sure it is all tacked down properly. If you have vents on the roof, make sure they are not clogged up, and make sure the flashing is intact all around the vent. This is an easy spot for water to come in if you aren't careful, so look carefully all over the place while up there.
Check Your Gutters and Downspouts, Too
The gutters and downspouts are what get the water off of your roof and move it away from your home. Heavy rains can quickly fill your gutters, but if they are already full of debris, leaves, sticks, or mud, the water is going to back up on your roof, and fall in sheets over your gutters to the ground around your home's foundation. Clean out your gutters and make sure the downspouts are clear and pointed the right direction. This keeps your roof from any extra water damage that may occur.
If you are not sure about going up on your roof by yourself, then don't try it. Call in a professional Huntsville roofing company to do it for you. Just make sure you find out from them where they saw any issues, and ask them what needs to be done to correct them.
Give us a call 256-325-2277, or email us for a free roof inspection and Free Estimate
Check what some customers are saying
We offer more than roofing, check out our service offerings
We Specialize in maximizing insurance claims and quick turnarounds.