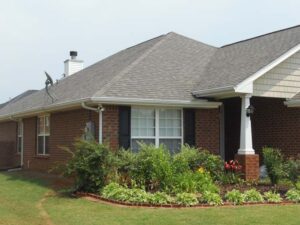 Getting a new roof is about more than just keeping the weather out, and your comfort in. It helps to provide more for your home than these simple pleasures. While most people do not look forward to having to replace their roof, it can be a very beneficial investment for you to make. Here are some of the most important benefits you can get when you put a new roof on your home.
Your Home is Safer
When old roofs start to decay, they become problematic. Water can start to seep in, and the weather affects the structure of your home than it would with a solid roof. This can affect how structurally sound your home, as a whole, is. Replacing your roof and putting on a new one allows you to be safer inside your own home. Don't take a risk that your attic is deteriorating over your head. Get your roof replaced, so that all those weak points are addressed and fixed up.
A New Roof Saves You Money
While putting money into a new roof may not have been in your plans, the money that this investment can save you is not something to scoff at. It is an expense, and that is not being debated. However, a new roof saves you money in a few different ways. First of all, you don't have to pay for leaks or other repairs to the roof or the structures below. Then, you can also keep the extra money that comes with lower energy costs to keep your home cool during the hottest months, and warm when the colder weather hits. While snow is not a constant threat, it is still important to know that you will be kept warm should snow blanket the Huntsville area.
A New Roof Provides Curb Appeal
If you are trying to get your home to look nice, adding a new roof to your home is an easy way to start. It boosts how your home looks to anyone that passes by, and can increase the curb appeal of your home so much, it may spark an interest to buy your home. If your home had an older roof that was a bit of an eyesore, it can also be a way to help bring back up the visual value, and the home value, of your property.
Selling Your Home is Easier with a New Roof
Putting a new roof on your home just before selling it can make for a very good investment. Typically, when the home sells, you can get about 70% of the value back, plus you can often get a higher asking price for your home when it has a new roof. This is because buyers like the idea of being able to have a warranty to cover any damage or problems for the next 5-20 years, depending on what type or roofing materials you chose. You can simply transfer the warranty over to the new buyers and then enjoy the fruits of your home's sale.
If your roof needs replacing, call in your local Huntsville roofing company to come out and give you an estimate. They will need to take a look at what state your current roof is in, and likely want to look around your rafters. That way, they can see what will all need to be done to replace the roof and make it safe and comfortable for you and your family. Call on Quality Roofing today, and have them come out to give you a full estimate. They know what benefits your home will get, and can share them all with you!
Give us a call 256-325-2277, or email us for a free roof inspection and Free Estimate
Check what some customers are saying
We offer more than roofing, check out our service offerings
We Specialize in maximizing insurance claims and quick turnarounds.