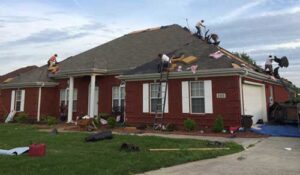 Huntsville Roofers, Quality Roofing, LLC, understands that your home is supposed to take care of you, keeping you safe from the sun's UV rays, the winter's cold and the pouring rain. But in the end you need to take care of your home if you want it to take care of you while maintaining its value. One of the most important but overlooked parts of the home is the roof and you should pay special attention to its condition.
Your roof stands between you and your family around the clock, day in and day out but if you're like most people you rarely look up at your roof. Even when people do look to their roof they often don't know what to look for. The best way to take care of potential problems is to handle them as soon as possible so you need to know the warning signs that tell you it's time to repair your roof.
Read on to learn about the common warning signs you should look for regularly if you want to keep your roof in top condition.
Missing Shingles
If your home has shingle roofing one of the best ways to easily check for damage is by looking for missing shingles. The ease or difficulty of this task depends on the height of your home as you'll need to find be able to look at your roof from an angle that allows you to properly view the shingles on it.
You might think that a missing shingle is only a cosmetic issue but it goes deeper, without a shingle the material underneath is exposed and can be damaged more easily, and damage to the roof itself can be more costly to repair. To prevent unnecessary costs check your shingles with some regularity and after extreme weather events such as storms that might blow your shingles off.
Damaged or Distorted Shingles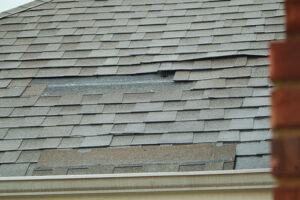 A shingle doesn't have to be missing to raise issues, even if your shingles are all in place they may still need to be updated. Shingles that are cracked, curled or otherwise damaged or distorted are going to need replacement sooner or later. Acting sooner rather than later will help you minimize potential damage.
Leaks
Whenever it rains you have an opportunity to check for some of the most costly roofing issues, holes that allow water to leak into your home. Keeping a look out for water dripping from your ceiling is the bare minimum that you should be doing but if you want to be thorough then you should try and look at the areas closest to the roof, which may be your attic or any small space that exists between the roof and the top floor of your house. This can take some effort and thought but it should be done from time to time.
Even small leaks can lead to big problems, if you want to protect against mold and rot you should keep a careful eye out for leaks. You should also know that water isn't the only thing that can leak through roofs, watch out for sun shining through your ceiling or wind blowing through.
Old Age
Eventually every kind of roofing should be repaired or replaced, although the lifespan of the roof will depend on the material used and the attention put into the installation process. If your roof is older than 20 years then you should seriously consider new roofing, or at least keeping a close eye on your roofing for signs of decay.
The Importance Of Vigilance
How valuable is your home to you? After you've spent long hours saving up money to buy your home and make regular payments you want to make sure that the money you're paying isn't going to waste. By keeping a close eye on your roof you can prevent damage that can be incredibly costly in terms of repair costs or lost property-value.
The fortunate thing is that you can gain an incredible amount of peace-of-mind simply by taking a few minutes to examine your roof and make sure that it's in good condition. Most of the time you won't find anything to worry about but if anything looks like it could be a problem then it's time to call us at Quality Roofing LLC so we can make your roof as good as new.
Give us a call 256-325-2277, or email us for a free roof inspection