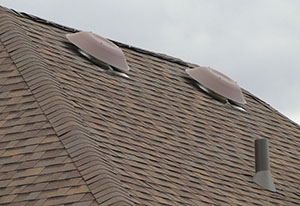 Proper ventilation is one of the many factors that go into having a secure, stable and durable roof. When a roof does not have adequate ventilation, condensation can form, moisture can accumulate and the roof decking and stability of your roof can become damaged and weaken. In addition, your entire family's health is ultimately at risk.
Proper roof ventilation maintains cooler air in the attic while also making the home much more energy efficient. In addition, it also prevents condensation build-up and moisture accumulation on the underside and interior of the roof decking, which prevents premature rotting of the decking. In addition, having adequate roof ventilation will reduce the overall risk of fire.
There are various kinds of vents that are used to ensure proper ventilation of your roof. Here are two of the most common:
Roof ridge vents – These are generally positioned along the roof's ridgeline and are primarily used for the exhaust and/or outflow of heat, moisture and musty air.
Soffit vents and eaves – These are located on the lower part of the roof and offer intake ventilation.
Now, the industry requirement for proper roof ventilation is one square foot of each intake and outflow/exhaust ventilation per 300 square feet of attic space, if there is a vapor barrier. If there is no vapor barrier, then the industry standard doubles.
The importance of adequate roof ventilation and construction cannot be over-emphasized. Make sure that when having a new home built that the contractors you choose to work with are knowledgeable in proper roof ventilation. If you are not sure whether your roof has proper ventilation, give us a call and request a quote for a free roof inspection.